Your NoiseAware events history is a complete record of your historical data. Your alerts are tracked as events, with a start time and end time. There are 6 types of events that can occur with your NoiseAware sensors:



Noise

- when noise has crossed your threshold. As these events go on longer and louder, alerts are triggered.

Your first alert is sent after most noise has been above your chosen threshold over a 10 minute period.

The second alert is triggered when guests have not quieted down from the first message, and remain above your threshold for the better part of 10 minutes

A final escalation notification is sent after another 10 minute period of noise above your chosen threshold. From here, we recommend getting in contact with the guest as soon as possible and reminding them of the house rules and community standard.

Events are resolved when guests have remained below the threshold for 10 straight minutes

Disconnect

- disconnect events begin when we have received no data from a sensor for 30 consecutive minutes. The disconnection can be caused from a power failure or outage with the outlet the sensor is plugged into. A disconnection can also be caused by a loss of internet connection in the home, or a conflict between the NoiseAware sensor and your router's security settings or firewalls. While the sensor is disconnected, it will work to get back online, but we are unable to communicate with it until it is back online. We will send reconnect notifications as soon as the sensor does reconnect with our server.

Low Battery

- a low battery alert is sent when battery power goes below 10%. Typically batteries last from 3-6 months depending on temperature and connection quality. Extreme temperature swings and environments with intermittent connectivity or heavy signal interference can greatly impact battery life.
Property Disconnect -

A property disconnect occurs when multiple sensors at the same property lose connection at the same time.
Occupancy

- Occupancy alert is triggered when higher than normal occupancy is detected. Your NoiseAware sensor will observe occupancy levels over a period of time and alert you when there are significant outliers. Your occupancy trend graph will always show side by side with your noise graph for greater context.
When you first open your Event History, you will see the most recent 10 events. You are able to edit the number of records per page at the bottom of the page to see a greater number of records.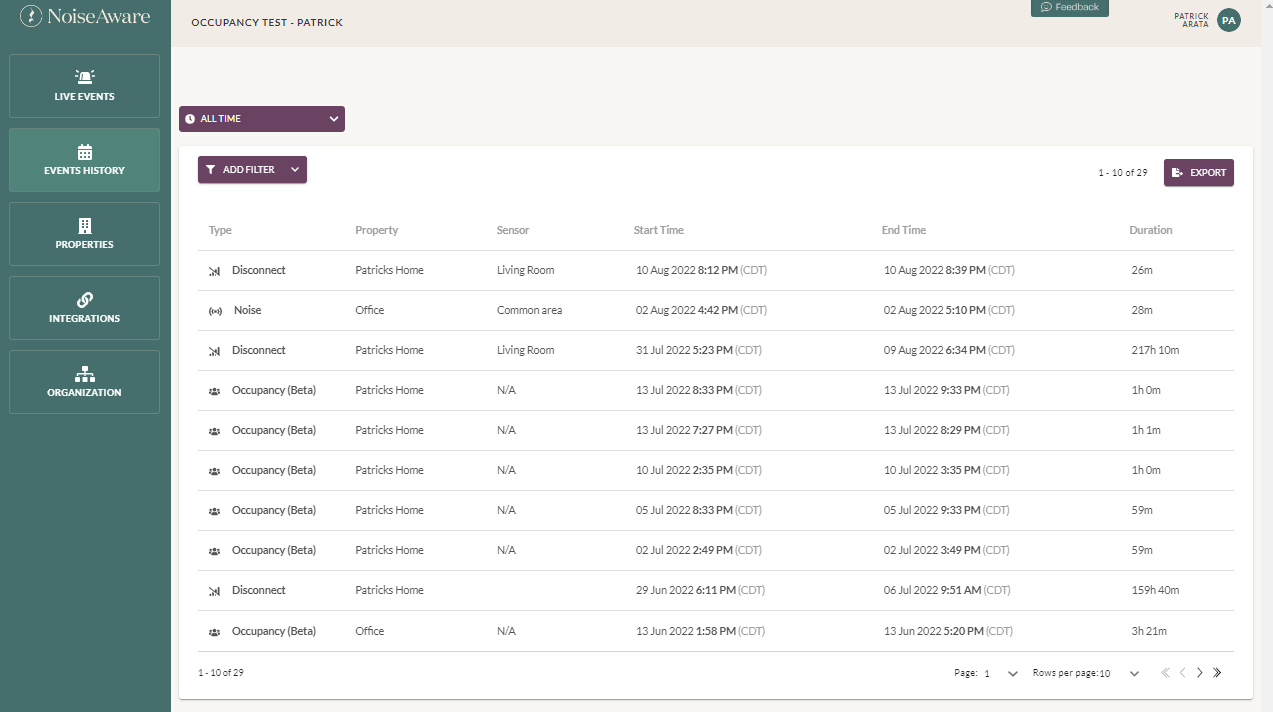 You can also filter by event type, start time, end time and duration of events. All events and filters can be exported by pressing the export button in the top right corner of the Events History page.
As of August 17, 2022 the mobile app will be updated to include the Events History.