The environment where your NoiseAware sensors are installed in your property is very important in regards to sensor connectivity strength and their ability to stay online. Two of the biggest environmental factors for connectivity strength is the distance (WiFi router to indoor sensor, indoor sensor to outdoor sensor) and the line of sight between the sensors.
In order to achieve the best connectivity, we recommend that there not be any obstructions (such as appliances, fire place, concrete walls, satellite dish, abundance of wires, etc.) in between the line of sight from your indoor to your outdoor sensors. Please ensure that your WiFi router is not enclosed in a metal box or in a closet as this can significantly impact connectivity levels as well.
How To Decrease Disconnections:
Ensure there are no environmental factors that are disrupting your sensor connectivity at your problem properties.

If possible, move the indoor sensor closer to your WiFi router with the best line of sight between the two devices. We recommend placing the indoor sensor in a room where your guests are most likely to congregate.

If possible, move the outdoor sensor closer to the indoor sensor with the best line of sight between the two devices. We recommend having the outdoor sensor mounted within 15-25 feet of the main gathering area outside.
Here is a good visual for indoor and outdoor sensor placement to increase connectivity: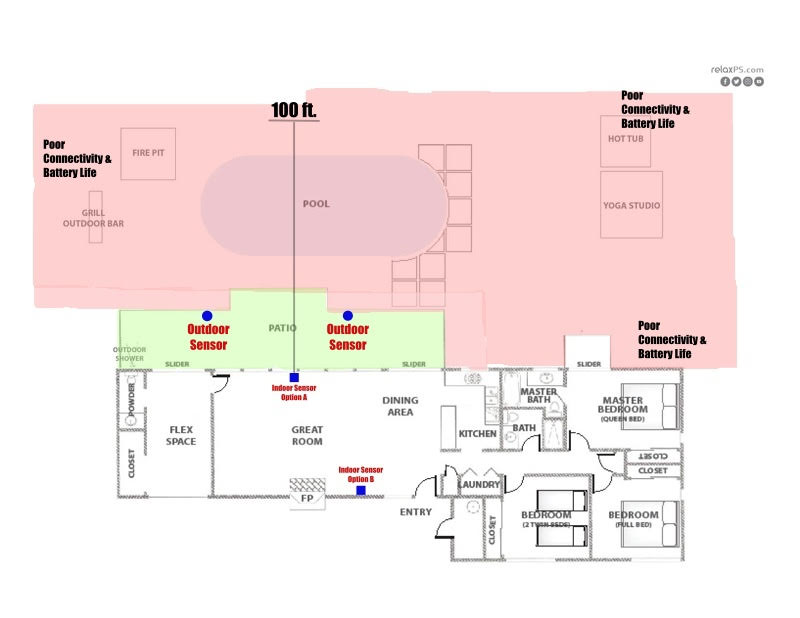 If you are still having issues with connectivity or have any questions, please give our support team a call at 888-847-5538. You can also chat with us from inside of your web account or email us at
support@noiseaware.io
.